ADBLUE PROBLEM REMOVAL/REPAIR
NO FIX - NO FEE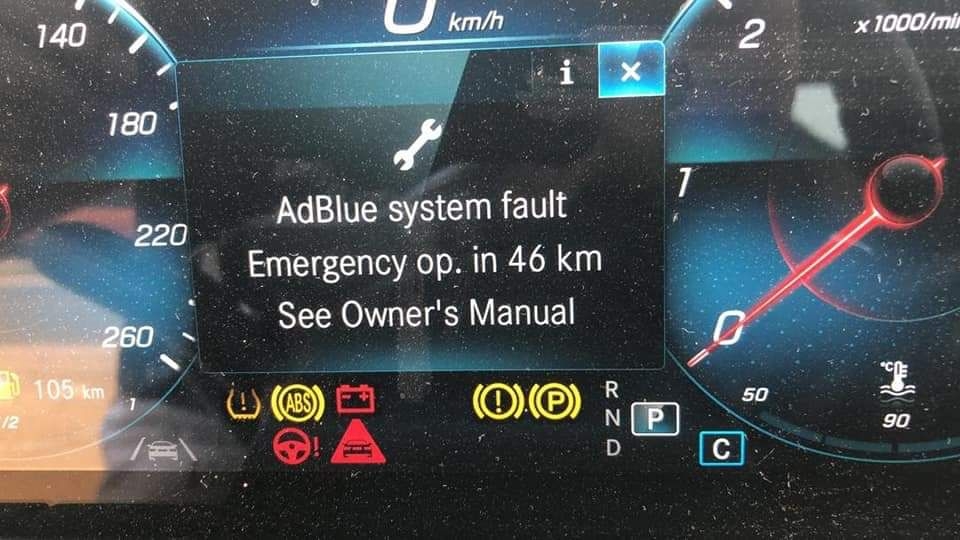 ADBLUE Problems?
Exhaust Warning Light, the first sign of the problem
Next comes the engine warning light and LIMP mode!
How The SCR System Works
SCR (Selective Catalytic Reduction) systems are fitted to all modern diesel engine Cars and Vans from about 2014. Truck and tractor manufacturers starting implementing the system back as early as 2007 The aim of the system is to inject Adblue (Aqueous urea solution) made with 32.5% urea and 67.5% Ionised water directly into the vehicles exhaust system, this sprays directly onto the combustion fumes and reduces the amount of NOX (Nitrogen Oxide) within the engines emissions. While this system sounds all good unfortunately it is very susceptible to serious problems and is extremely difficult to diagnose once it has failed! This can lead to:
Very expensive repair costs
Engine Limp Home mode
Vehicle Speed restriction
Non Engine starting Situation
Adblue Warning Lights all over the dash
In the Meantime, Here is What We Can Do to Help!
Here at Bolt Remaps, we always present our customers with options when it comes to their AdBlue warning light or any problems that they may be having. If you drive an off-road vehicle or your vehicle is being exported outside of the EU, you can have the AdBlue system removed completely. They can have expensive repair costs and speed restrictions, and although they're great for reducing emissions, they can present problems for some.
If your vehicle requires AdBlue, operating without it could result in a fine. Our expert engineers can implement custom software programming to stop your engine from going into limp mode (something that activates when the engine picks up a fault). This option allows the AdBlue system to operate, but will reduce the chances of the warning light activating (don't worry, this isn't unsafe!). We can also remap the engine to improve fuel economy by up to 10%.
If you would like to find out more, or if you are experiencing AdBlue problems, please do not hesitate to get in touch with us today by calling 07719 156806.
Our Adblue Solutions
Full Adblue removal from the vehicle.
This involves software programming which will switch off the entire Adblue system on the vehicle. This option will completely disable the entire Adblue system for good and you will never have a problem with it again.
We can also remap the engine at the same time to increase the fuel economy by up to 10%. This option is suitable for on road use and will save you allot of money and potential vehicle downtime!
Adblue warning light | Adblue limp mode | Adblue counting down | Adblue non engine start | Adblue Removal
Legal disclaimer: None of the manufacturers displayed above either endorse or support any of the services we offer, for obvious reasons! These logo's are only displayed for illustrative purposes only. Adblue™ is a registered trademark of the German association of the automotive industry, We use the word Adblue™ on this website purely for descriptive purposes only and don't actually offer any genuine Adblue™ products. This product/service is only supplied for off road use and for export purposes outside the European union. Bolt Remaps take no responsibility for improper use of this service.
CUSTOMER

REVIEWS
Had my VW Polo mapped by Ryan great lad and very knowledgeable and answered all the question I had. Can feel a great difference in my car and much better fuel economy Would highly recommend this company to anyone looking to do it. First class service, very professional - Ryan Bovill - Luton, Bedfordshire - VW Polo GTI

Ryan Bovill

I'm very happy with the remap. It's running a noticeably quicker 0-60 time,The pops and bangs map is impressive and throttle response is absolutely awesome! I would definately recommend Dean and the team. — Benjamin Oduku - Ealing, London | 2018 Audi RS3

Ben Oduku

"I'm delighted with my remap and would like to thank you guys! The car is definitely more responsive across the Rev band and it seems the economy has also improved!" Basildon, Essex - 2018 Ford Mondeo TDCI

Terry P

Superb service from these guys completely transformed the performance of my car instant throttle response excellent mid range performance for safe overtaking much smoother to drive and gives an extra 100 miles on a full tank if driven sensibly feels like a completely different car well worth the money would highly recommend this company very knowledgeable and professional service thanks 2017 BMW 335D X Drive Touring | Margate, Kent

Varinder Dhillon
WE COME TO YOU
CALL US TODAY